HR digital transformation, Live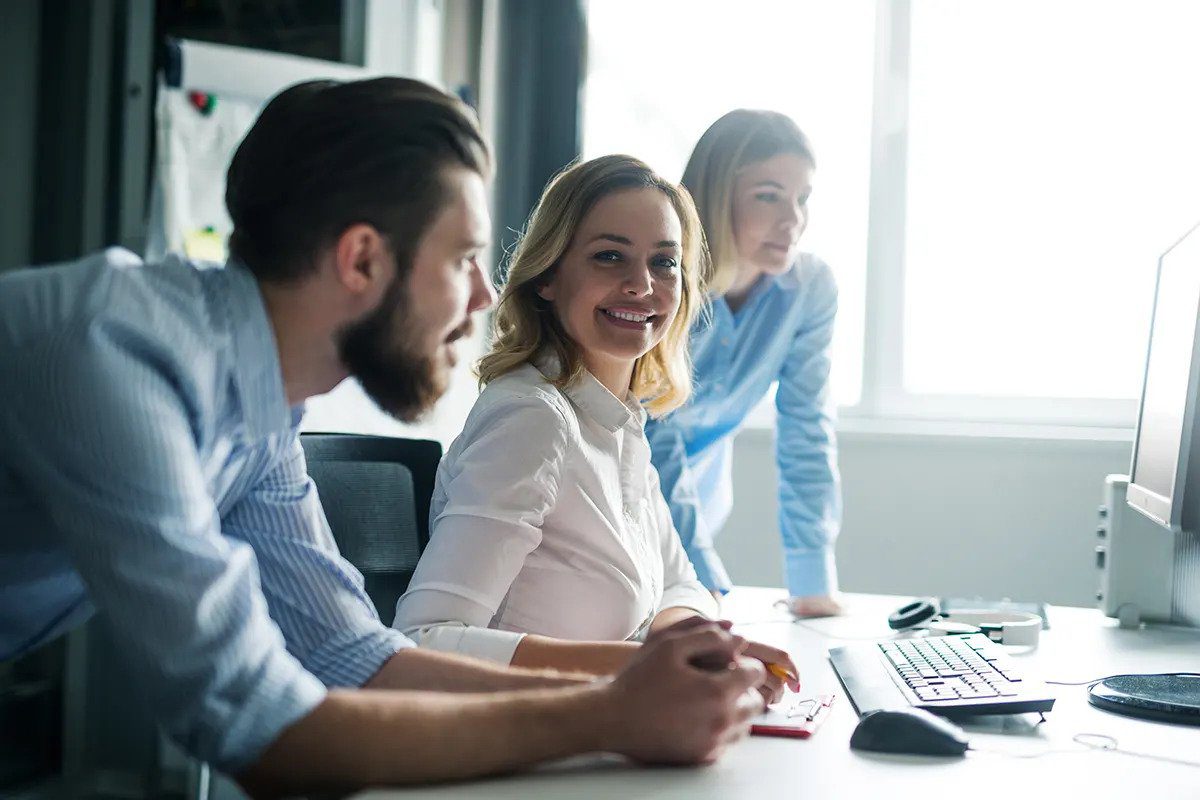 Turn your employees into a catalyst for the digital transformation of your day-to-day business operations by utilizing the unique capabilities of the innovative Soft1 myWorkplace web platform.

Soft1 myWorkplace changes the way the HR department operates, freeing its members from performing routine and extremely time-consuming manual processes. Offering a new digital experience to every employee, Soft1 myWorkplace helps your people become actively involved in human resource management activities.

SoftOne's web solution provides all employees with the opportunity to connect with both the HR department and their supervisor via any device (PC, tablet, mobile), thus it supports any type of work model (including remote work) but also any business role (such as salesmen, technicians, etc.).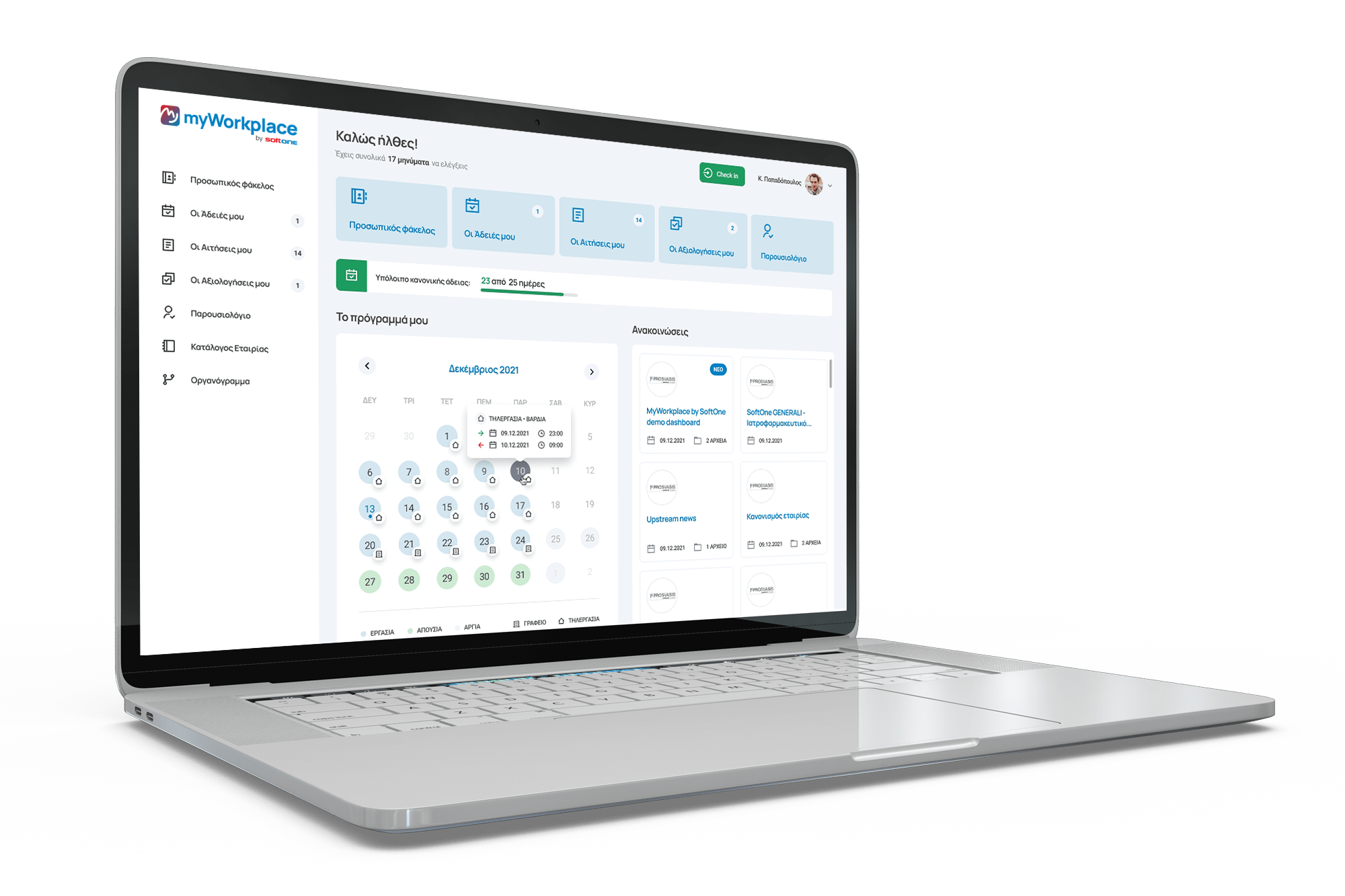 Employee engagement platform
Soft1 myWorkplace is an innovative employee engagement platform that provides every employee with remote, real-time access to all HR-related processes and information.
Utilizing Soft1 myWorkplace, each employee - depending on their business role - can immediately get insights into important corporate updates or personal information, submit requests (tracking their progress), approve the leaves of their staff, view their work schedule, etc.
Request a demo
The advantages of Soft1 myWorkplace

Automate HR processes
Optimize the operation of your HR department and speed up the execution of any related activity, by providing your employees with the capability to both access information and perform tasks, depending on their business role.

24X7 operation
Empower your employees, enabling them to instantly access important updates and corporate data, while also submit requests and take actions from anywhere and via any device (PC, tablet, smartphone).

Increased productivity
Manage all HR-related processes and issues faster, and increase the overall productivity of your employees, allowing them to handle HR tasks on their own through an easy-to-use online platform.

Better workplace environment
Lay the groundwork for a modern workplace environment that encourages your employees to interact with their supervisors and the HR department, while putting an end to time-consuming bureaucratic procedures.

Scale to needs
Easily and efficiently meet the unique operating requirements of the HR department of your business, utilizing the embedded functionality as well as the powerful customization tools of Soft1 myWorkplace.

Better decision making
Make informed decisions, leveraging the advanced HR analytics tools of Soft1 myWorkplace. Generate real-time HR reports (such as demographics/payroll, staff training and evaluation, goals setting and monitoring, etc.).
Features
Access by employees to the information that the company keeps about them (personal, corporate, communication details, etc.), capability to send a request to HR if there is any change in them (with simultaneous attachment of the relevant documentation if necessary)
View Data Sheet
Access of employees to their evaluations (current and past), option for self-evaluation, interaction with the supervisor, evaluation review, etc.
View Data Sheet
Access by supervisors to their staff's requests for their approval or rejection, detailed department leave calendar, online update of remaining leaves of staff members
View Data Sheet
Submit all types of requests for leave, with a parametrically designed approval flow chart and automated update procedures regarding the progress of each request
View Data Sheet
Employee access to their work schedule, easy monitoring of work, leaves, absence days, etc., capability to update the calendar via web (check in - check out)
View Data Sheet
Each employee can be informed about his/her position in the department's organizational chart, heads and managers of departments can view the organizational chart per company department
View Data Sheet
Complete monitoring of all types of requests (certificates, change of personal information, financial facilitations, provision of equipment, etc.) with capability of tracking the approval process
View Data Sheet
Access by supervisors to their department's attendance sheet, capability to submit shifts, absences, days-off, remote working, expansions of worktime, etc., with instant notification of both their staff and the HR department
View Data Sheet
Complete recruitment process, posting ads, receiving, and evaluating CVs, candidate evaluations
View Data Sheet