Redefining productivity
Soft1 ERP Series 6 provides the necessary functionality for today's manufacturing businesses to accurately model and plan production, react swiftly to changing customer demands and easily integrate with their suppliers' systems.
With comprehensive functionality and remarkable ease-of-use, Soft1's Series 6 production solution enables your business to drive efficiency, streamline processes and keep costs low, while keeping customer service and profitability up. It also allows for the careful and exact handling of supplies -based on real client demands, as well as model of relations with suppliers, factories, warehouses, human resources and cost centers.
Soft1 Production Management software provides visibility and control to all key production processes, as well as integrated audit controls to meet the most rigorous compliance requirements. Accurately and timely create real-time reports. Make business decisions based on actual data and improve your overall productivity, while you delight your customers.
Soft1 ERP delivers real benefits

Improve efficiency
Streamline and standardize your production processes. Staying on top of key aspects, improve your production planning and ultimately achieve better results without the need of additional resources.

Make better decisions
Stay informed about every aspect of your business. Utilize real-time insights and key performance indicators to accurately perform forecasts, react quickly to customer demands and proactively manage your entire production operations.

Lower operational costs
Eliminate complexity, delays and communication problems. Soft1 Series 6 assists you to efficiently balance your production and labor requirements, while reducing overtime expenses through workforce optimization.

True cloud deployment
Realize a true cloud deployment and better manage your entire manufacturing business. Increase your operational agility and experience significantly lower operating costs without compromising the quality of your operations, products or services.
Industry-Specific Functionality
Customer Success Stories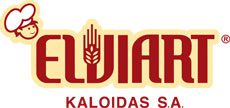 Elviart Kaloidas Commercial & Industrial S.A. specializes in the dough delicacies production since 1952. The company holds a leading position in the domestic market, producing more than 650.000 pieces per day in its own manufacturing plant in Aspropirgos, Attica. Operating through privately owned storing and distribution facilities in Germany and Cyprus, ELVIART has also a significant presence abroad, exporting its products in the European and the Middle Eastern market.


Read the customer story